DiStefano Jaud Architecture Oversees Final Completion Of Geometrik Office Warehouse In Kelowna, BC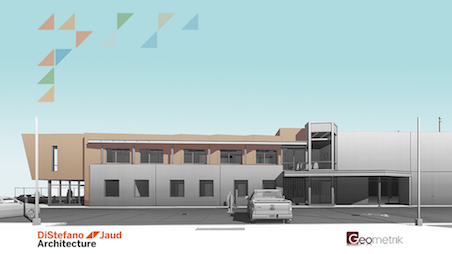 Kelowna, BC – June 2018 – Kelowna based Architectural design firm DiStefano-Jaud Architecture, announces the recent completion of the expanded new headquarters for Geometrik, a custom manufacturer of high quality wood acoustical ceiling and wall panels. At a cost of just over 3.9 million dollars, the corporate office and warehouse places Geometrik firmly in Kelowna, allowing for future growth as the company expands its' line of quality acoustical products to meet market demands across North America, Europe and South East Asia.
The new DiStefano-Jaud designed warehouse and headquarters incorporates Geometrik's approach to aesthetics and form, metaphorically mimicking the movement of sound with its symphonic organization of elements..
A majority of the building is that of the warehouse serving as the manufacturing area for the acoustic panels where cutting edge technology helps in the creation of their product. The office and main entry point of the building contracts the main mass positioned in an asymmetrical composition, giving visitors a visual experience of the natural effects of sound within the surrounding environment.
"The overall design focus for Geometrik's office warehouse, was to allow it to compliment and incorporate into the natural environment here in Kelowna. Above the lower level of offices, a more free form undulating wall of contrasting colour provides relief, contrast and dynamism to the building design," states Carlo DiStefano, Principal at DiStefano-Jaud. "The undulating form is meant to recall the movement sound has as it moves through space, rebounding off of solid forms."
Geometrik's new West Kelowna office and warehouse is located at 1449 Velocity Street, Kelowna BC. Grand opening/ribbon cutting ceremony for the new building is still to be announced. Visit www.Geometrik.com for more information.
About Geometrik
Geometrik is the only custom manufacturer of high quality wood acoustical ceiling and wall panels on the west coast of Canada. Located in Kelowna, B.C., near the U.S. border, Geometrik offers a unique blend of experience, engineering expertise and manufacturing capability. Our highly motivated team of skilled workers and artisans carefully craft our panelling to exacting standards, giving you the ultimate in sound control and beauty. As wood manufacturers, Geometrik is committed to innovation and quality, utilizing the best materials, hardware, and the latest construction methods.
About DiStefano-Jaud Architecture
We are committed to providing creative solutions driven by the essential needs, character and economics of each client group.  DiStefano/Jaud Architecture starts each project from the viewpoint of the questions – What are the limiters and the opportunities?  What is the purpose and function? How does the site fit within the realm of the community? In this way we build from an essence as a foundation to the project.
"We believe in working closely with our clients and creating a comfortable setting for them to exchange their ideas with us as we build a design of shared ideas in team fashion to create the optimal solution for our clients."
MEDIA STATEMENT FOR DOWNLOAD AND PUBLICATION
PRESS RELEASE: 2018-06-19 DiStefano-Jaud Geometrik Project Press Release