DiStefano Jaud Architecture was brought on board for this project by the builder to help develop the house design.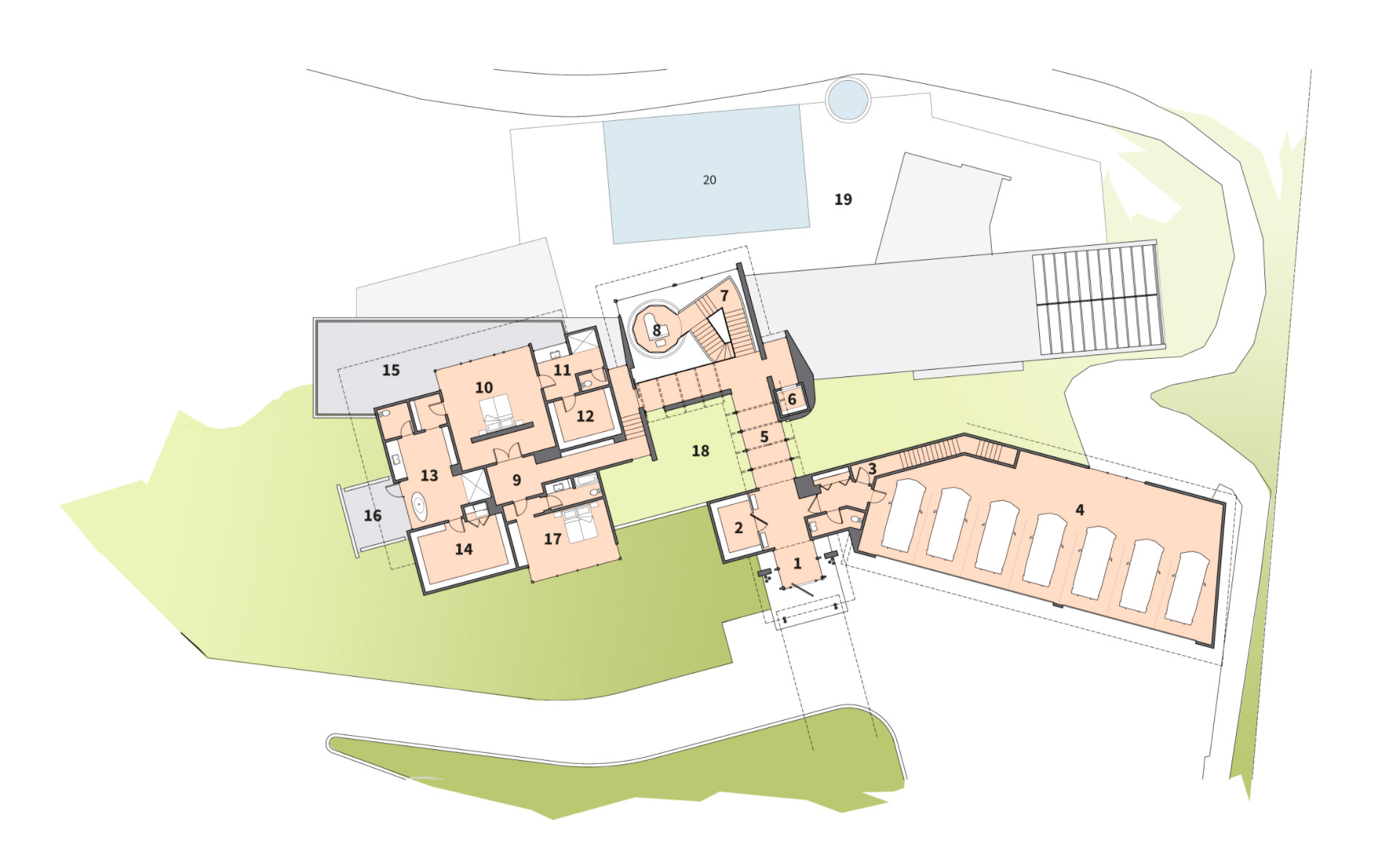 1 - MAIN ENTRY
2 - ENTRY CLOSET
3 - STAIR TO LOWER SUITE
4 - GARAGE
5 - BRIDGE
6 - ELEVATOR
7 - MAIN STAIR
8 - PIANO DIAS
9 - FOYER
10 - MASTER BEDROOM
11 - HIS WASHROOM
12 - HIS CLOSET
13 - HER WASHROOM
14 - HER CLOSET
15 - ROOF DECK
16 - PRIVATEGARDEN
17 - GUEST ROOM / DEN
18 - LOWER COURTYARD
19 - SUB LEVEL PATIO
20 - POOL
The site is in a remote location outside of Kelowna. The large property slopes down to Okanagan lake with views down the lake back towards Kelowna. The steepness of the slope and the requirements of the program for the house meant there needed to be some creative thinking in how the house could be organized on the property.
For the owners the need for and clear separation of private and public areas of the house was critical. The family enjoyed entertaining with family and friends as a regular activity but also very much wanted to have areas to retreat to that were all their own away from these festive centered areas. There was also the need for a large garage for storage of vehicles that would occupy a large footprint near the main entry of the house.
To minimize how the slopes of the site would impact the house and to ensure there was good access to the outdoors at a natural grade the house plan was developed as a long thin band that would nestle into the hillside and minimize the amount of grade drop from front to back.
The house was organized in two bars with the front bar housing the main entry to the house and the garage area. From this front bar the main house is entered via a bridge that spans across a contained courtyard. Creating the courtyard allowed us to provide light, views and access to the outside on both sides of the main bar of the house. The bridge connects to a vertical spine complete with spiraling staircase that descends through 3 levels of the house
to the lowest level that access the lower terrace, lounge, fitness room and outdoor pool. Set apart from this part of the house lies the private areas a place to retreat, replenish and refresh.
While we were involved in the design development, our services did not carry through the construction development and as such could not see through the final detailing of the project.
< Work