First United Church
Location: Kelowna, B.C.
Project type: Addition / renovation for community and support spaces for the church
About
We have been working with the congregation at the First United Church in downtown Kelowna to strategize reworking their support spaces. The existing building is an addition from the 1940's that has been adjusted and added on to over the years. Upkeep of the building, spatial layout, code non-compliance and lack of easy accessibility have all contributed to a grow desire to re-imagine a new support space for the church and congregation. We have been fortunate to work with them in this first design study looking to strategize and provide a vision for what might be possible.
The key design criteria that were developed by the team were:
Sense of welcoming to community – importance of entry and porous edges of building. Current buildings are expressed as solid masses with hard to find entry points and convoluted circulation.
Importance of Historic presence – The church has a historic designation and has a significant position physically n the City as a gateway to the downtown area.
Relationship to surrounding urban fabric – positioned at the edge of downtown at the corner of two main streets the site also provides a link between smaller historical homes and main street of the downtown area.
Value of the breadth of musical history of congregation – featuring one of the few operating pipe organs in the city, the church has music as a keep focus of its functioning. Music is at the core of any celebration and also is a focus of the support spaces outside of assembly area.
01 – Early Site Study: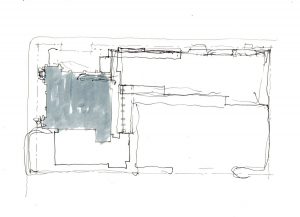 02 – Programmatic Blocking study 1:
This study establishes a building mass along Bernard Avenue for potential musical functions to relate to the surrounding residential fabric. The main church support spaces then wrap the church space to create a strong connection to the main building. Circulation in blue connects the two blocks and provides access from Bernard and the parking area.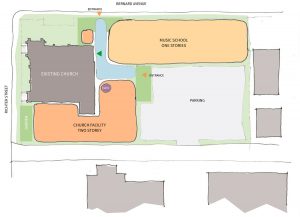 03 – Programmatic Blocking study 2:
In this option the main church administration functions are oriented along Bernard and music functions at the south providing a direct connection from Richter. Other church facilities are framed by these two massing. Circulation allows easy movement between all of these functions and creates an open network of connections.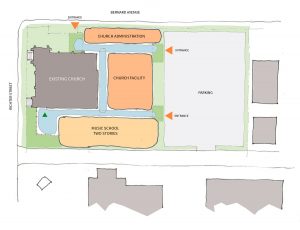 04 – Progressive Diagrammatic Site Studies:
The diagrams shown were created to help provide the rationale for the direction we decided to take with the building plan and organization. Each diagram is one panel in an evolved storey line.
05 – Plan development sketch:
Sketch of developing plan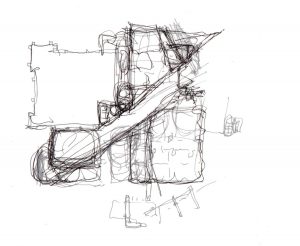 06 – Main Floor Plan:
Developed main floor plan.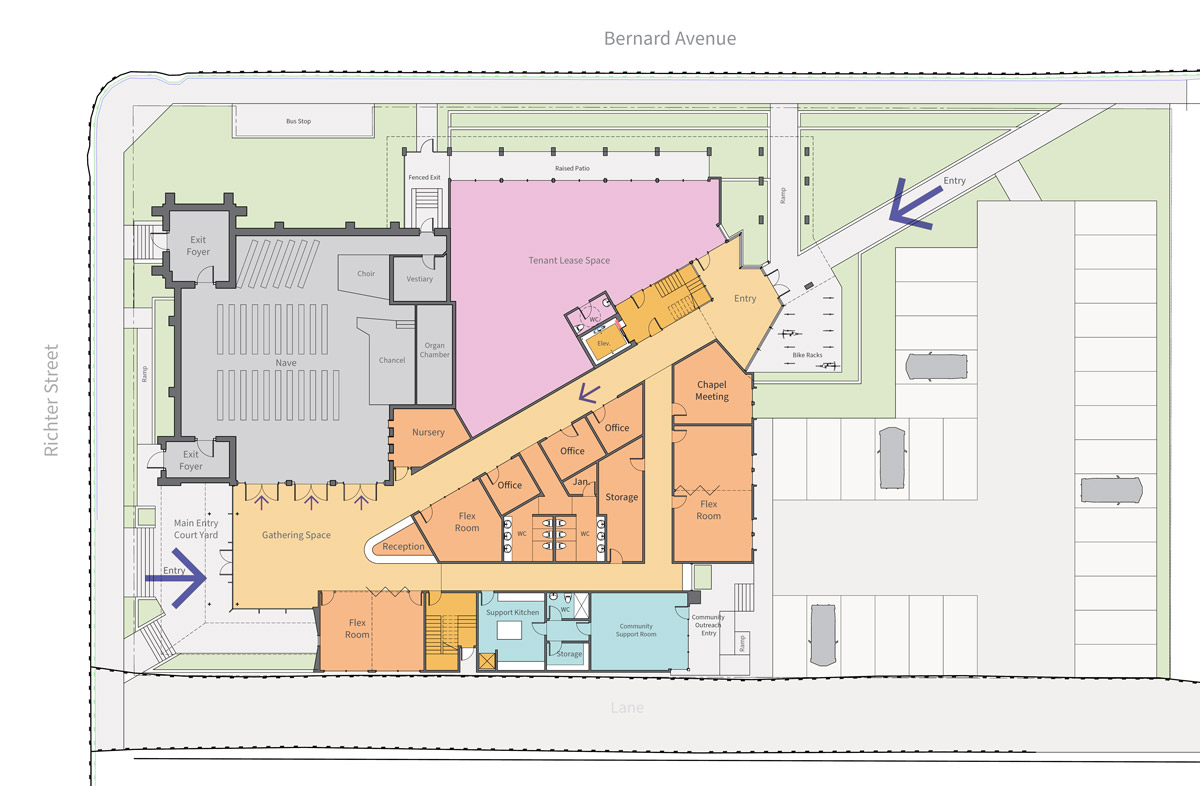 07 – 3D rendering study 1:
Rendering study showing proposed new entry along Richter.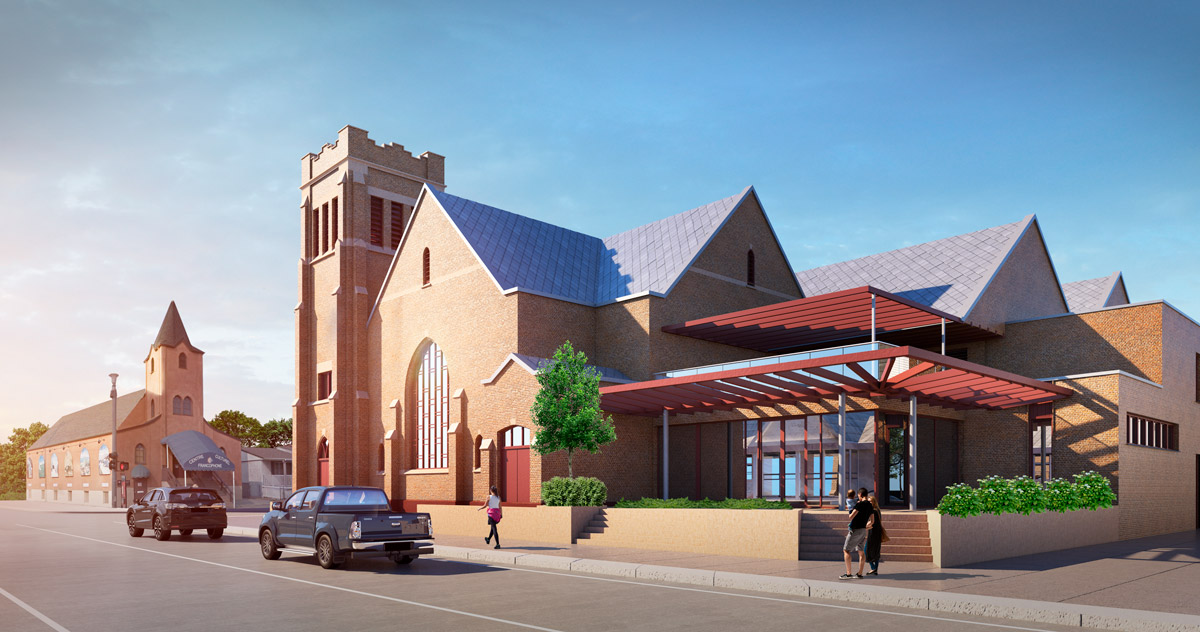 08 – 3D rendering study 2:
Rendering study showing the Bernard Avenue elevation where addition reflects historical elements of original Hall building and provides a residential scale to surrounding context.
09 – 3D rendering study 3:
Rendering study showing eastern elevation facing parking area. Diagonal access into building is shown.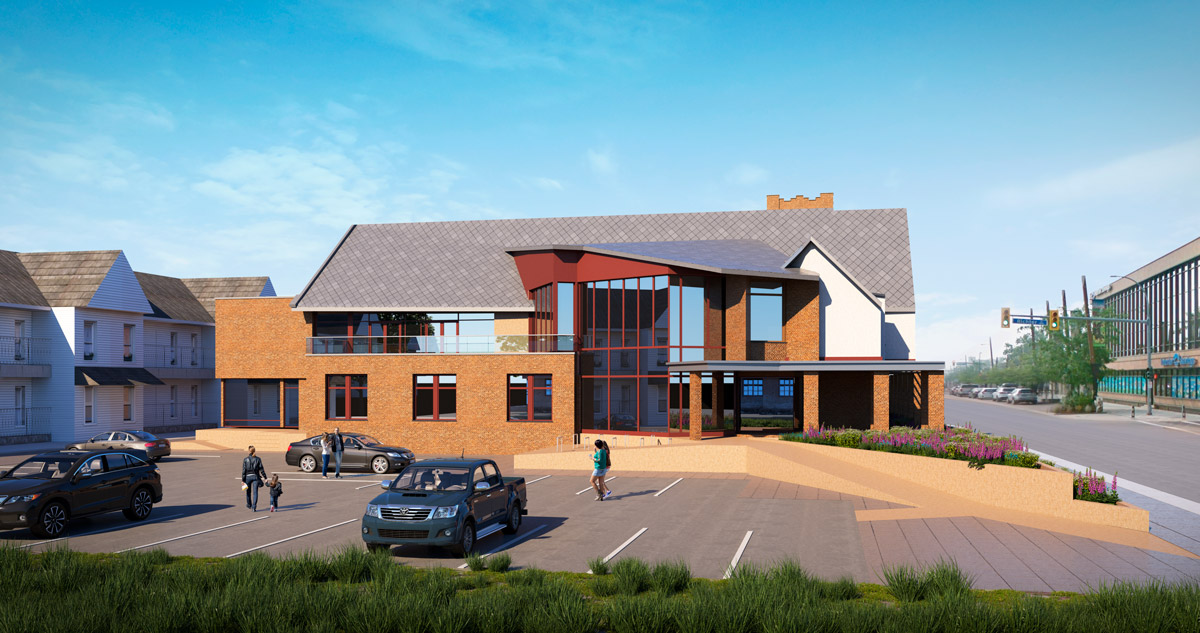 The design continues to develop and the program change as we look forward to continuing our work with our client.