Hillcrest Home 
Location: Kelowna, B.C.
Project type: New custom single-family home
About 
The clients, a husband and wife chose to rebuild on this inner-city view lot as opposed to renovating the existing 40-year-old house situated on the site.  The lot is formed by a street and lane that bounds the open view western sightlines while the rear and North side are framed by the closed edges of existing residential properties.  Consideration for retirement and aging-in place informed the design with an elevator to serve all floors and the potential for a lower floor grade entry suite which will serve in the interim for the office of the owner.  
The design intent is to give credence to the "public" and "private" zones shaped naturally by the lot configuration.  By using the lane instead of the street for driveway access provided the opportunity to have the garage form a distinct edge of closure against the lane.  The bedroom block as well forms an edge along the North property line to lend privacy to the East and West garden.  These two blocks – bedroom wing and garage create the opportunity for the living spaces to enjoy both public and private zones of the lot.  
The floor plan is hinged at the kitchen to direct the views front and rear.  The family room opens to the rear of the yard where the private garden includes a peach tree preserved as the memory of the owners' parents.  The sitting and dining rooms open to the expansive western view of downtown Kelowna with the lake and mountain views.  The kitchen as a result enjoys the dynamic of both views.   
01 – Site view:
Aerial view of the site nestled a hillside community in Kelowna.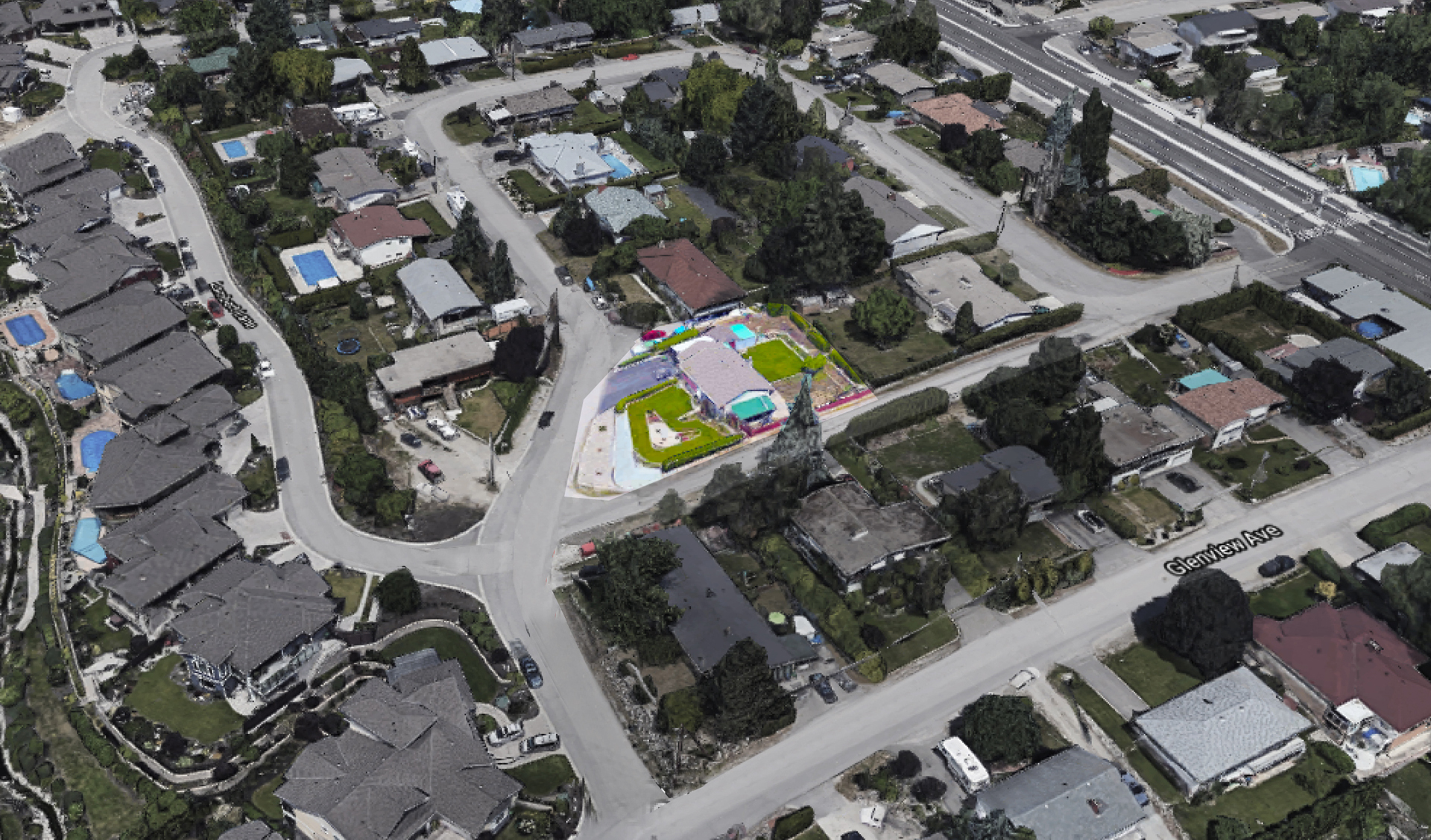 02 – Site Study:
Early site study looking at positioning on the site, initial home structure and orientation.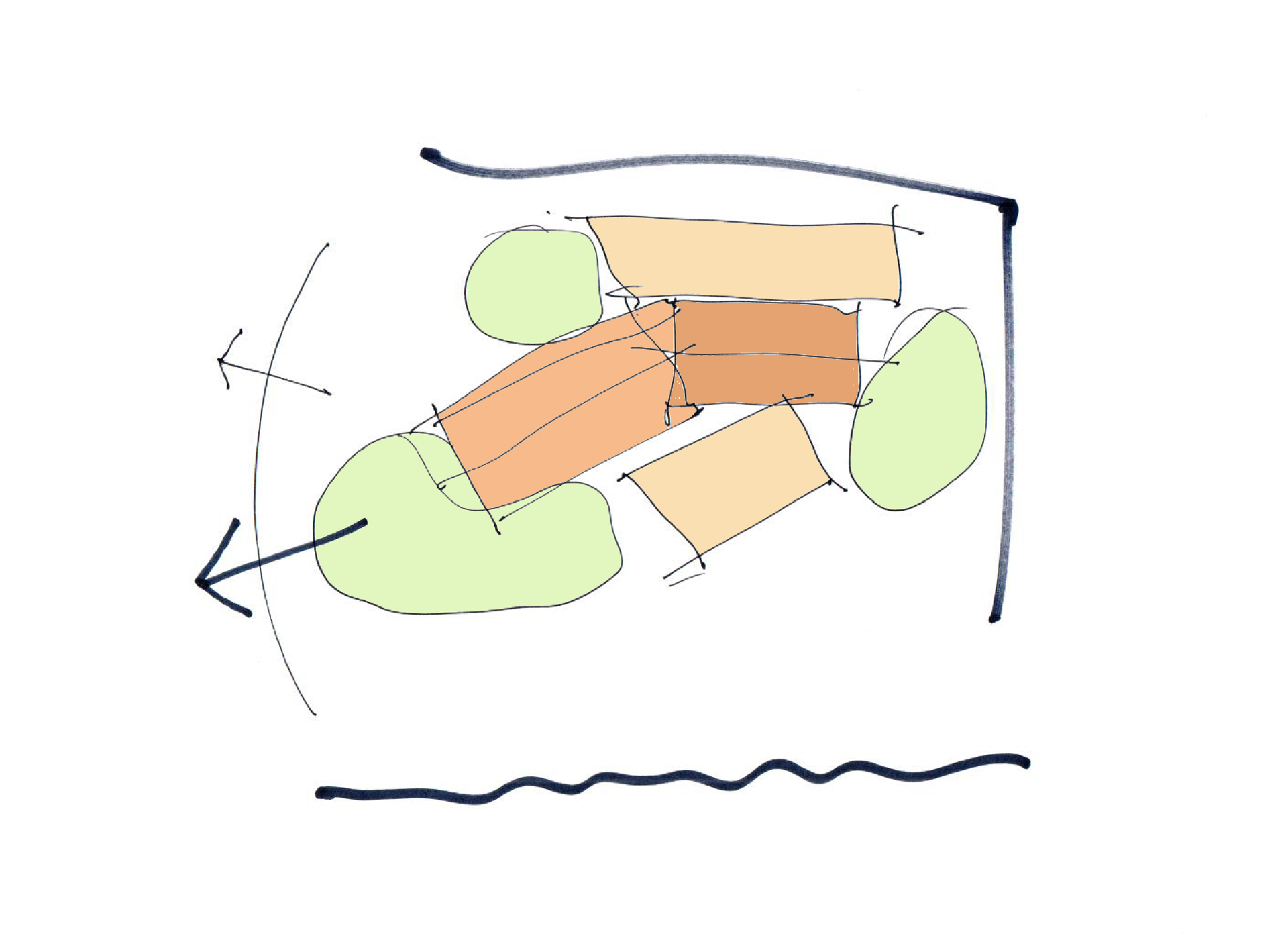 03 – Programing Blocking:
Development of the plan with blocking study of building components.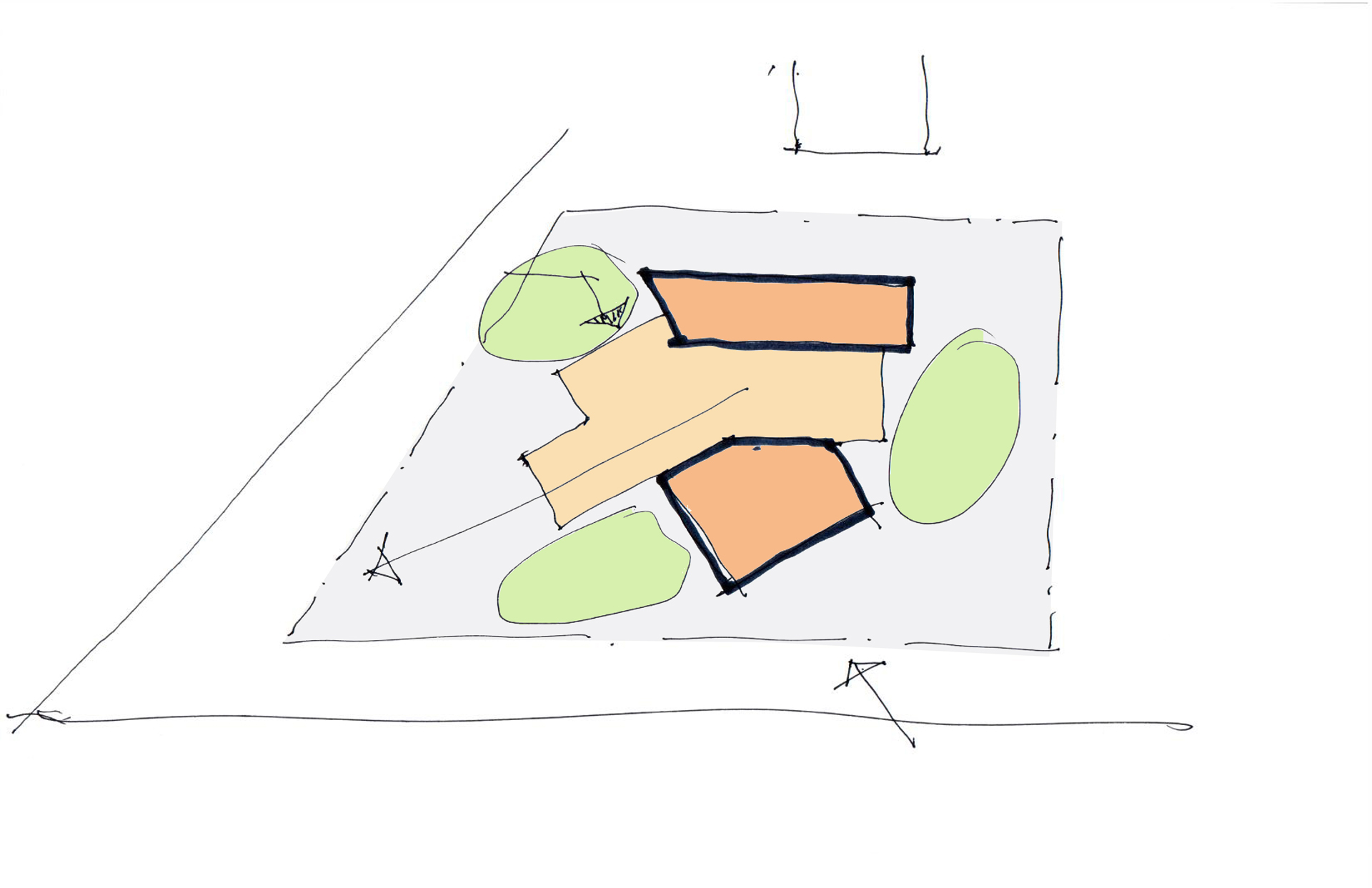 04 – Developed Building Section:
A partial section and elevation through the house looking into the side portion of the main living space with its pitched roof.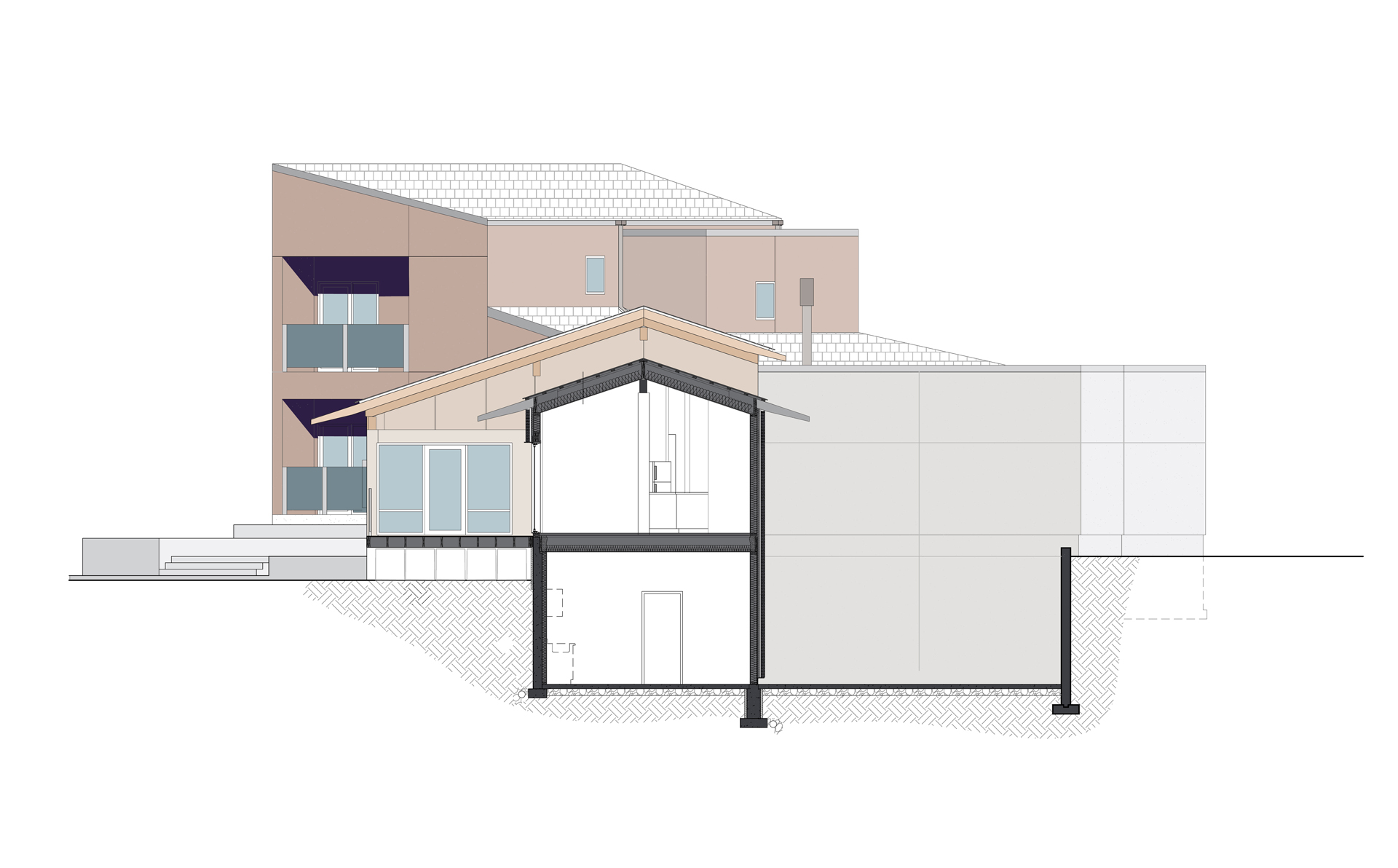 05 – Main Floor Plan:
The finalized main floor plan for the home.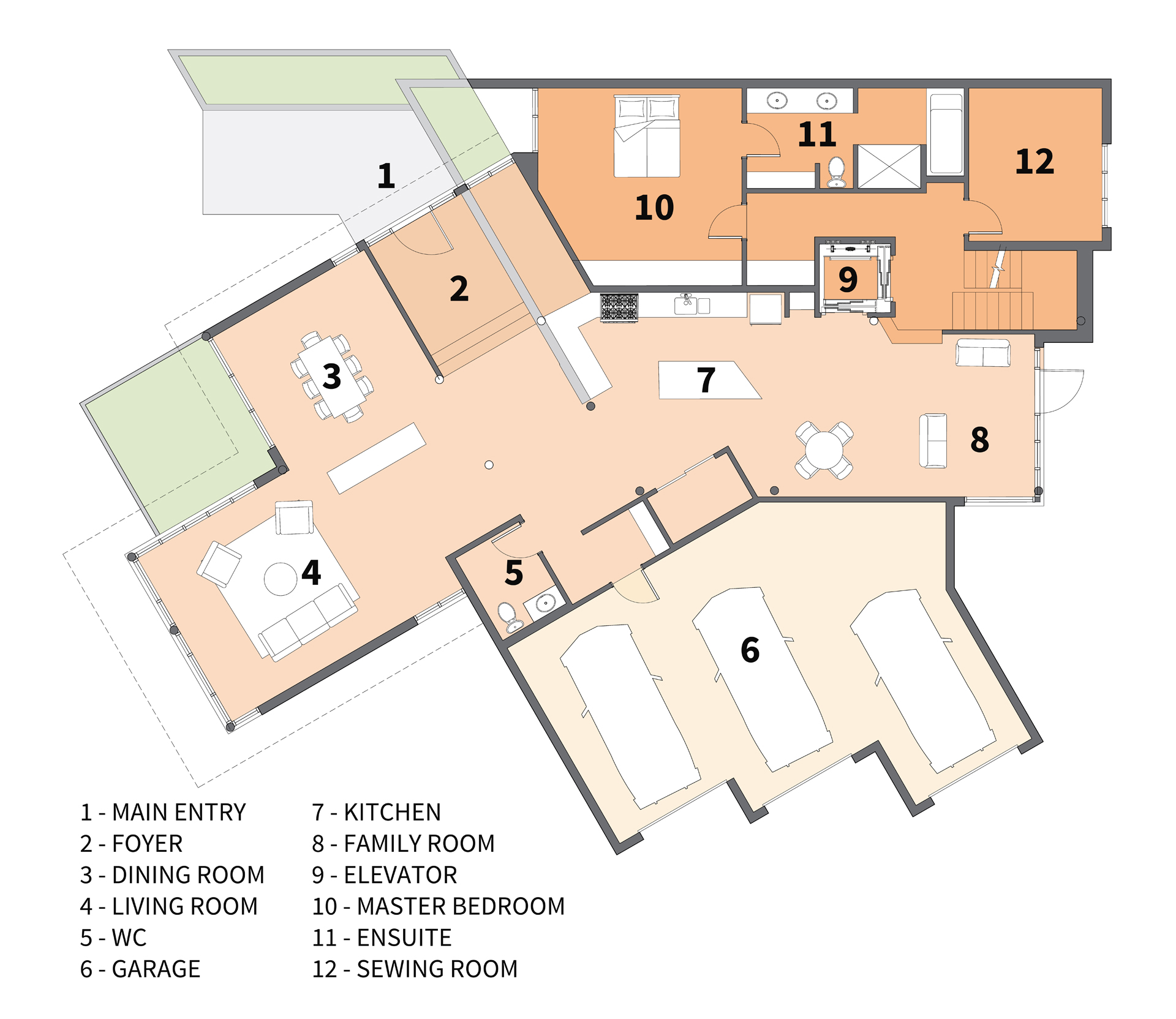 06 – Construction photos: