Metal Roofs – Traditional and Modern Explorations
I consider myself a modernist but I must confess, in my younger years I had a great love of all things old. I loved the grand stone-clad buildings and the intricate detailing of a column, corbel and lintel. Through the years my focus slowly shifted to modern work and design but that first love was always hidden away inside me somewhere.
Once I finished architecture school and started working, I made a move to Montreal and while there I was fortunate to work with a firm that specialized in historical restoration, Fournier Gersovitz et Moss Associés (FGMAA). It was here that this inner love of historical buildings, construction methods and materials was reawakened. During my time at FGMAA I was involved in numerous restoration projects which usually meant I was out in the field; up on a roof or hanging off the side of a building while various trades either took apart a façade or roof, or else were busily reinstalling or doing a repair. It was a fantastic experience and I learned intimately about the craft that goes into making these types of buildings a reality.
There were two projects I worked on at FGMAA that remain foremost in my mind and probably had the biggest influence on me, one due to its sheer size and complexity, the other because of its details. The first is la Fondation Daniel Langlois, a restoration of the original Port Authority building in old Montreal. The project was well along when I came aboard, but I quickly learned much of its history and was fortunate to be involved in some of the site coordination and inspections. The original intent was a minor restoration of the building but during early work a fire broke out that destroyed much of the interior, most of the roof and all the cupola.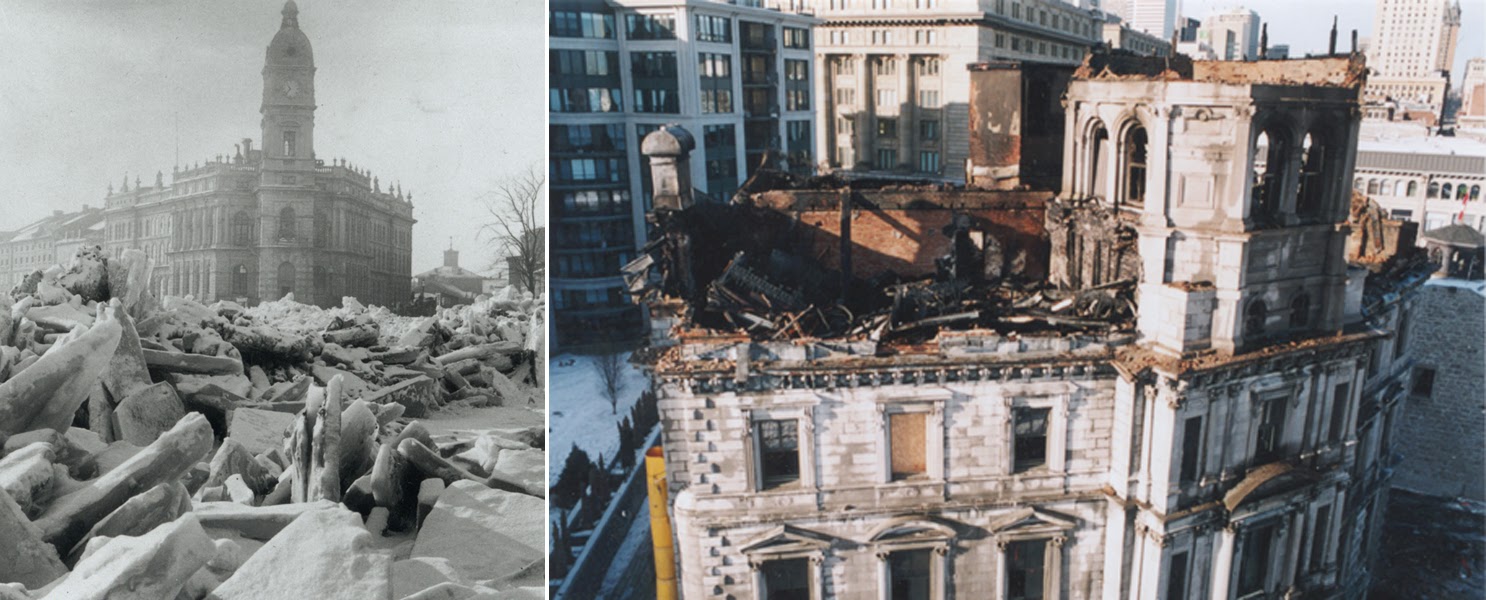 The client took the bold step of deciding to completely restore the building to its original glory as well as enlarging it with a pool building at the rear. This meant archived photos, remnants from the fire and other sources had to be studied in order to rebuild what had been destroyed. The difficulty of the restoration was that in order to recreate some of the work, builders had to source out from long-retired masons and metal workers who knew how to build walls in the old manner, with structural masonry. This means rather than having a typical steel stud wall in front of which a stone cladding is set, the whole wall would be solid masonry and would support the floors above. It was decided that the pool addition would also be built in the same manner. The retired masons set themselves up onsite and essentially taught the younger masons how to construct the wall.
The project also included a great deal of highly detailed metal work on the upper walls and roof including the new cupola. Historically, the benefit of the malleability of metals has made them easy to work with, and because of their impervious nature they are perfect for shedding water. Metalwork has even been used to reinterpret stonework because the same effects can be created quicker and easier than carving out hard stone. Metal can be hammered over top wood framing or carvings to recreate their intricate detail then replicated in a fraction of the time it would take to hand-carve stone. The photos below illustrate how this technique and material was used to exceptional success on the building.